For More Product Info

Downloads
How it works - English

How it works - Spanish

Brochure - English

Brochure - Spanish

Energy Management
and Conservation Services

We deliver unique and creative solutions that lead to tangible economic growth in your business, practice or organization through an innovative product called Simple Control. Simple Control is a computer-based energy saving system that monitors and controls a facility's lighting, HVAC and water heating with real-time energy monitoring of a customized conservation strategy.
Benefits of Simple Control:
Guaranteed Savings
Up to 25% Utility Bill Reduction
Federal, State, and Utility Initiative Qualification
$1 investment in energy efficiency upgrades yields $2-3 in asset value
Making Commercial/Industrial Facilities:
Energy Efficient
Productive
Green Energy costs have risen 40% over the last 10 years and are expected to climb 9% in the next 2 years. Real-time energy monitoring combined with intelligent control can eliminate as much as 25% of the energy used. In addition, Simple Control qualifies for a federal tax deduction as well as other incentives. Green Financing programs can mean no upfront costs.
Average Commercial Building Energy Consumption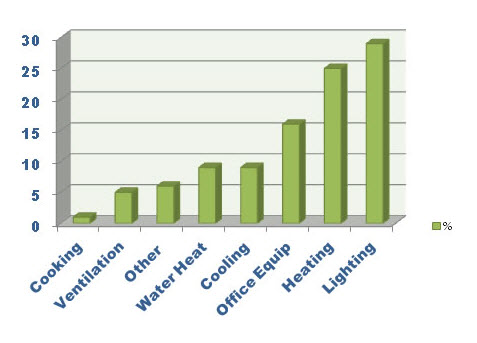 The Simple Control Solution:
Proprietary SC Algorithms© continuously monitor environmental characteristics of HVAC systems, lighting, and water heating for increased building efficiency and occupant comfort
Secure wireless communication eliminates the need for IT networking or wiring
Real-time performance monitoring and reporting allows for more efficient energy saving strategies and maintenance response times
The technology provides the ability to network multiple buildings
Why Choose simple Control?
Our systems can pay for themselves by reducing costs, enhancing profits, and boosting asset values:
Recover energy costs and improve cash flow
Lower capital expenses through better utilization of your current infrastructure
Streamline maintenance, increase up time, and identify the root causes of excessive power usage
Simplify your energy budgeting/forecasting and reduce volatility
back to top