Past Performance
---
* Note - Find downloadable PDFs at the bottom of each past performance page
ENVIRONMENTAL PROTECTION,
ASSESSMENT AND COMPLIANCE
DOE ORO EM Facility Representative Contract Project Description
Contract Number: Subcontract to EIRC DE-AT05-02OR22893
Contract Type:
Contract Dollar Value:
Period of Performance: January 2002 to present
SLIND provides the necessary and just-in-time professional support to the DOE Oak Ridge Operations (ORO) EM Facility Representative (FacRep) Training and Qualification Program. The FacRep organization provides the primary means of oversight for all EM Decontamination and Decommissioning (D&D) programs, Complex Processes, and Operating Facilities on the Reservation. In keeping with specific DOE Orders, Manuals, and Standards, as well as ORO Directives, EM procedures and Defense Nuclear Facility Safety Board recommendations, these essential oversight personnel must maintain a qualification and training process and management program conducive to safe and reliable oversight of a dynamic EM operation.
Each of the SLIND professionals provided in support of this mission are Subject Matter Experts (SMEs) for their discipline and maintain the technical and interpersonal skills necessary to support the dynamic and high risk activities related to oversight of the Bechtel Jacobs Company, LLC. (BJC) closure of the Oak Ridge Reservation (ORR) legacy facilities.
Specific to the ORO EM FacRep support efforts, SLIND has developed study guides and lesson plans, conducted mentoring sessions and prepared qualification packages. Disciplines supported under this contract include:
Conduct of Operations (ConOps)
Integrated Safety Management (ISM)
Nuclear Safety
Occurrence Reporting
D&D
Environmental Restoration

Waste Management/Disposition
Logistics (Transportation)
Worker and Public Safety and Health
Environmental Protection
DOE Directives and Standards
In support of this Project and others, SLIND has developed and utilizes a Requirements Extraction software application. In summary, the requirements extraction process is very similar to the Standards/Requirements Information Documents process, but completely automated. This automated process allows SLIND to take a requirement [Code of Federal Regulation (CFR), DOE Order, DOE Manual, DOE Standard, State Regulation, Documented Safety Analysis, Technical Safety Requirement, Plan/procedure, American National Standards Institute (ANSI), American Society of Mechanical Engineers (ASME) or National Fire Protection Agency (NFPA) Standard] and quickly identify all
the required action statements. This is accomplished by breaking the document down using a complex Macro utilizing over twenty key words to extract those actions that display a Shall, Will, Should, May or Implied Action(s).
This process is then supplemented through the use of an off-the-shelf relational database to compile, sort, and segregate these requirements' statements into informative reports. These reports then identify the basis of a requirement, the procedure (administrative control) that implements the requirement, responsibility for implementation by position, and relation of the requirement to other documents. In short, as depicted in Figure 3, SLIND Requirements Extraction Process, this process defines a complete configuration management process for a Project's administrative control process.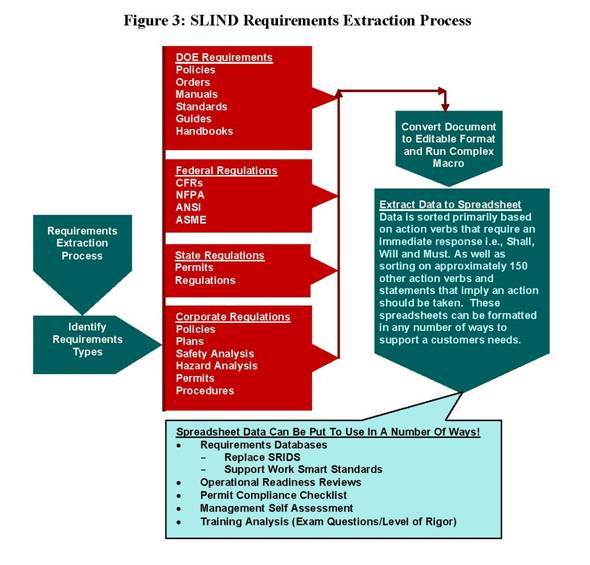 Spreadsheet Data Can Be Put To Use In A Number Of Ways! •Requirements Databases - Replace SRIDS -Support Work Smart Standards •Operational Readiness Reviews •Permit Compliance Checklist •Management Self Assessment •Training Analysis (Exam Questions/Level of Rigor)
back to top
---
Uranium Disposition Services Project Description
Contract Number: BOA-FS-OR-2002-036
Contract Type:
Contract Dollar Value:
Period of Performance: October 2002 through 2004
As a lower-tier subcontractor, SLIND has been affiliated with Uranium Disposition Services (UDS) since they were awarded their contract by DOE. The Task Orders (TO) issued SLIND increased steadily due to the quality, consistency, expedience, cost-effectiveness, and attentiveness that we have placed on every TO awarded.
The primary objectives of the UDS depleted uranium hexafluoride (DUF6)) Conversion Project are to design, construct, and operate conversion facilities on DOE property at the Portsmouth and Paducah sites. These facilities will convert the DOE inventory of DUF6, now located at the Paducah and Portsmouth Gaseous Diffusion Plants and at East Tennessee Technology Park (ETTP), to a stable chemical form acceptable for beneficial use/reuse and/or disposal. In addition, UDS will provide surveillance and maintenance of the DOE inventory of cylinders containing DUF6, low-enriched uranium hexafluoride, and natural assay uranium hexafluoride.
SLIND provided the necessary technical professional start-up support to the UDS DUF6 Project. The professionals provided required no coaching. Upon assignment each began definition of Project level planning documents.
SLIND maintained accountability for every task awarded. The following are examples of the services and activities SLIND provided to UDS:
Integrated Safety Management Systems (ISMS) & Work Smart Standards (WSSs)

Developed Project Specific ISMS Plan
Developed associated procedures and subcontracting strategy
Developed associated training materials
Support Phase 1 and 2 Verification

Security
Training

Develop the project's initial training and qualification of technical and operating personnel
Developed the initial Training Plan

Records Management

Developed the project's written record management program Staffed and maintained an auditable records management program

WSSs

Served as the WSSs Process Leader in support of both DOE and the Prime
Coordinated activities of the WSS Identification Team
Reported to the Confirmation Team and prepare WSS Final Report
Developed associated procedures/protocols

Quality Assurance (QA

Supported the development and DOE approval of QA Plans and Procedures
Coordinated the implementation of QA implementing procedures
Evaluated the effectiveness of implementation for QA procedures and plans
Developed and implemented the assessment plan and schedule
Determine construction and operation staffing levels for Quality Functions
Provide QA oversight for Engineering, Procurement, and Construction activities

Development of procedures, plans, and other guidance documents associated with the above referenced programs
As defined in Figure 4, our established start-up process were instrumental in carrying the project effectively and efficiently through the first 2 phases of the 3 phases of Design, Construction and Operation. The primary focus of this process is to staff the project with personnel that can immediately develop and obtain DOE approval of all necessary Administrative Controls. Additionally, SLIND focus on combining efforts such as procedure development and training to maximize efficiency in program development.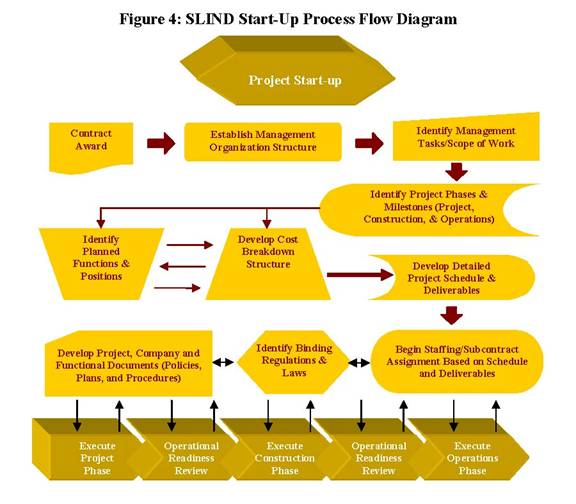 back to top
---
Bechtel Jacobs LLC (Ongoing)- East Tennessee Technology Park, Oak Ridge, TN 37830
Contract Number: 23900-BA-EH452 (Initial contract), 23900-BA-EH491 (Current Contract)
Contract Type: Time and Materials
Contract Dollar Value: $13,195,831.00
Period of Performance: 07/2004 through Present
Street Legal employees provide ongoing support, including training, to the Projects at the Y-12,
K-25, and ORNL sites in all areas of support, including:
Facility Manager Training and Mentoring
Operational Readiness Reviews
Management Assessments
Independent Verification Reviews
Issues Management and Tracking
Causal Analysis
Certified Industrial Hygienists
Certified Safety Professionals
Associate Safety Professionals
Nuclear Facility Operations Support

Facility Maintenance Support
Industrial Safety
Construction Safety
Nuclear Waste Management
Radiological Characterization
Hazardous Materials Control
Nuclear Safety
Fire Protection
Environmental Management
Integrated Safety Management
Supported Projects:
D&D of Manhattan Era Project Facilities (K-25, K-27, K-33, etc.) at the East Tennessee Technology Park (ETTP) located in Oak Ridge TN
Toxic Substances Control Act (TSCA) Incinerator located at ETTP in Oak Ridge, TN
EMWMF a disposal facility currently consisting of 4 cells supporting facilities located west of the Oak Ridge Y-12 National Security Complex designed to receive low-level (radioactive) waste, hazardous waste as defined under RCRA.
Melton Valley Project at ORNL waste storage and disposal is 140 acres of unlined waste units, including burial grounds, seepage pits, and trenches that received over 2 million curies of radioactive waste, some of which were shock sensitive.
Molten Salt Reactor Experiment (MSRE) Facility which was targeted for D&D but had to be maintained operational to support vital safety systems until fissile material can be removed.
Lead Support for most of the projects undergoing Readiness Assessments.
back to top
---